Inquiry
FDA approved PEGylated Products
Since 1990, PEGylated biopharmaceuticals have been introduced into the marketplace as drugs for human use. Most are PEGylated proteins and one is a PEGylated aptamer (Macugen®) administered intravitreally. The PEG components of these biopharmaceuticals vary widely in size, branching structure and attachment type.
Table 1 Marketed PEGylated Products.
Functional Group on PEG: Succinimidyl ester; Aldehyde; Maleimide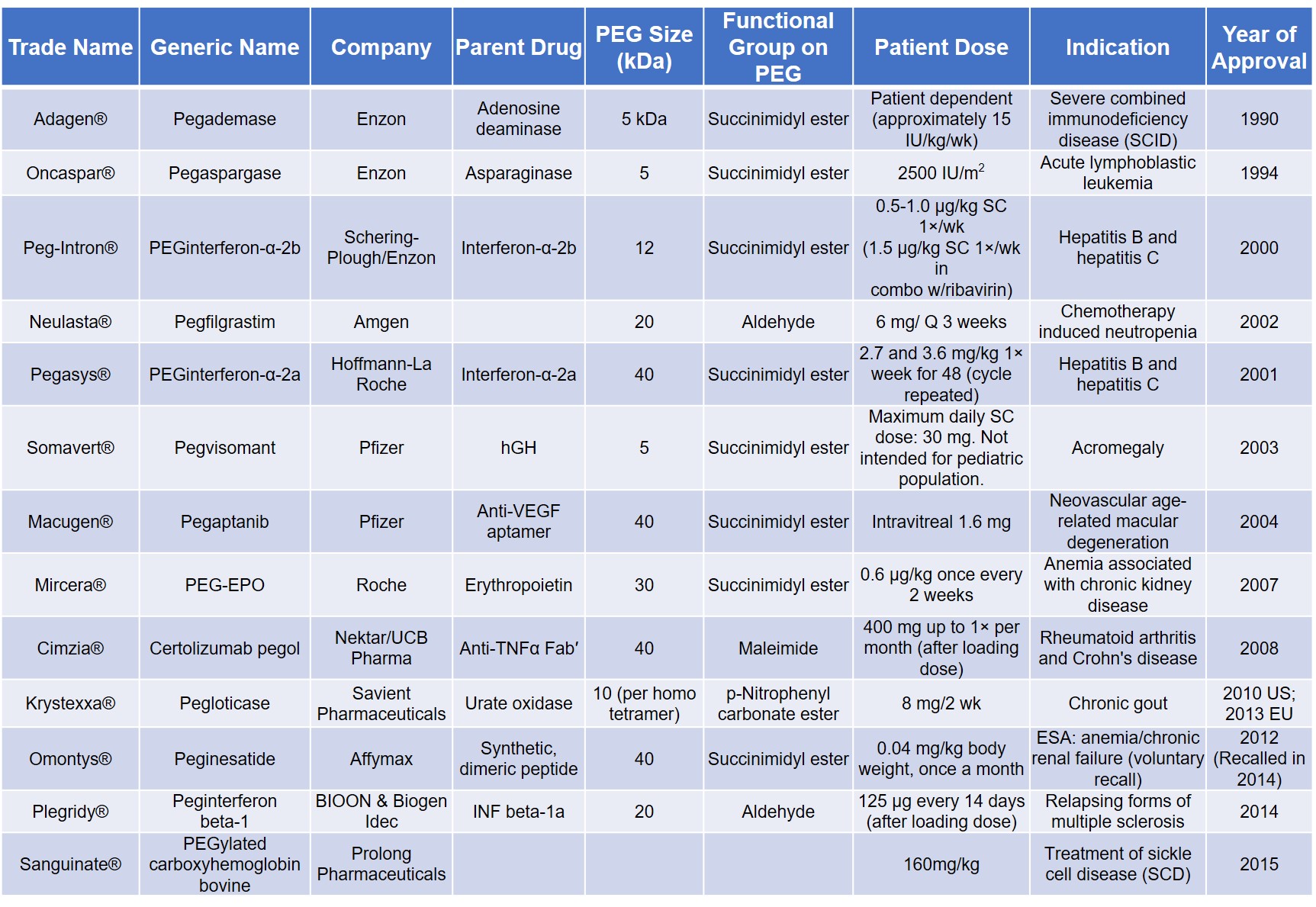 Adagen® & Oncaspar®
First 2 marketed PEG protein products through PEGylation technique are pegademase (Adagen®) and pegaspargase (Oncaspar®), which results in a stable amide linkage of multiple PEGs attached to the protein ε-lysines. Information on toxicities of these two pharmaceuticals was not available on the FDA web pages.
Krystexxa®

Krystexxa® (Pegloticase) is mammalian engineered uricase (urate oxidase) used to treat gout. Humans do not naturally have the enzyme, and nonmammalian sources of the enzyme are highly immunogenic. PEGylation of the mammalian-derived enzyme may reduce some of the immunogenicity but does not eliminate it completely.
PEG-Intron®

Fig. 1 PEGylation route for PEG-Intron® synthesis.
PEG-Intron®, a mono-PEGylated INF-a2b, is synthesized by using a succinimidyl carbonate PEG with12 kDa. The mPEG reagent forms a covalent carbamate and/or urethane linker with amine groups on the protein. The PEG-Intron® consists of 14 positional isomers and the distribution of positional isomers is dependent on the PEGylation reaction pH value.
Pegasys®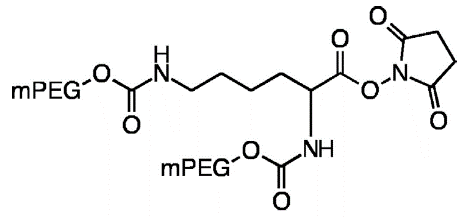 Pegasys® (PEG INF-a2a) is mono-PEGylated with a single 40-kDa branched PEG, consisting of 4 major positional isomers, Lys31, Lys121, Lys131, and Lys134, which is approved for the treatment of patients with chronic hepatitis C or chronic hepatitis B. The branching PEG structure, as shown on the left, was achieved by using lysine to link the 2 PEG chains.
Mircera®

Mircera® (mPEG-Epoetin Beta) is a mono-PEGylated extended half-life version using mPEG succinimidyl butanoate (30 kDa PEG). PEGylation occurs primarily at Lys 52 and Lys 56.
Omontys® (Recalled in 2014)
Omontys® (Peginesitide), is a PEGylated peptide that has no sequence homology to erythropoietin. It consists of 2 identical 21 amino acid chains peptides, covalently bound via a linker to a 40-kDa lysine branched PEG for a 45 kDa overall size. The structure of Omontys® is unique in that a linker comprised iminodiacetic acid and b alanine is used to connect the 2 peptides creating a peptide dimer. The peptide dimer is then connected by a single coupling point to the branches, which guarantee the construction of the linker only have one positional isomer.
Macugen®
Macugen® (Pegaptanib) is a PEGylated 28 nucleotide aptamer for intravitreal treatment of wet age-related macular degeneration in the eye. Aptamers generally have a short half-life in vivo as they are subject to cleavage by nucleases. PEG, in this case, is a good modifier to to make them suitable for a pharmaceutical product. The candidate which was most effective at inhibiting in vivo vascular leakage (guinea pig model) was chosen for PEGylation with a single 40-kDa lysine branched PEG attached to an amine at the 5' end.
Neulasta®

Neulasta® (Pegfilgrastim) is a PEGylated form of recombinant human granulocyte colony-stimulating factor (GCSF) and was approved for the treatment of neutropenia. Neulasta® is made with 20-kDa PEG and application of aldehyde chemistry using selective N terminal amine conjugation at low pH.
Plegridy®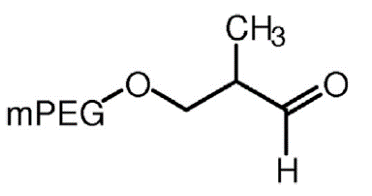 Plegridy® (Peginterferon Beta-1) is an INF beta-1a to which a single, linear 20 kDa mPEG-O-2-methylpropionaldehyde molecule (as shown in the left) is covalently attached to the α-NH2 group of amino acid residue via reductive amination with sodium cyanoborohydride. The non-PEGylated IFN b-1a is also marketed under the name Avonex® (IFN b-1a) for the same indication.
Cimzia®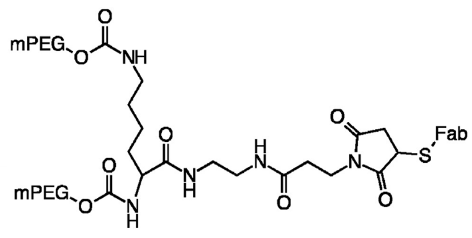 Cimzia® (Certolizumab Pegol) has an engineered thiol for PEGylation, which is the only thiol-engineered PEG conjugate currently marketed. Coupling chemistries that bind PEG to free thiol groups in the protein yield a disulfide linked conjugate. Thiol-reactive agents may provide site-selective PEGylation limiting the number of positional isomers.
References
Hamidi, M.; Azadi, A.; et al. Pharmacokinetic consequences of pegylation. Drug delivery 2006, 13 (6), 399-409.
Turecek, P. L.; Bossard, M. J.; et al. PEGylation of biopharmaceuticals: a review of chemistry and nonclinical safety information of approved drugs. Journal of pharmaceutical sciences 2016, 105 (2), 460-475.
Dozier, J. K.; Distefano, M. D., Site-specific PEGylation of therapeutic proteins. International journal of molecular sciences 2015, 16 (10), 25831-25864.
Why BOC Sciences?
Large Stock

More than 2000+ products in inventory

Global Delivery

Warehouses in multiple cities to ensure fast delivery

mg to kg

Multi specification for academic research and industrial production

24/7 Technical Support

Strict process parameter control to ensure product quality
Our Feature
BOC Sciences supplies a unique variety of PEG derivatives and functional PEG polymers. Our products offer the most diverse collection of reactivity, ready-to-use functionality, and molecular weight options that you will not find anywhere else.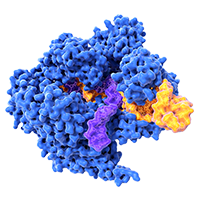 PEGylation of Peptides
and Proteins
Reduce the Immunogenicity of Peptide/Protein Drugs
Learn More
APPLICATIONS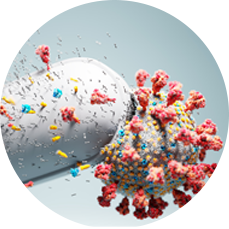 PEG linkers For Drug
Improved Circulation Half-Life
Learn More
Have Customer Reviewed On Us?
Chat With Us